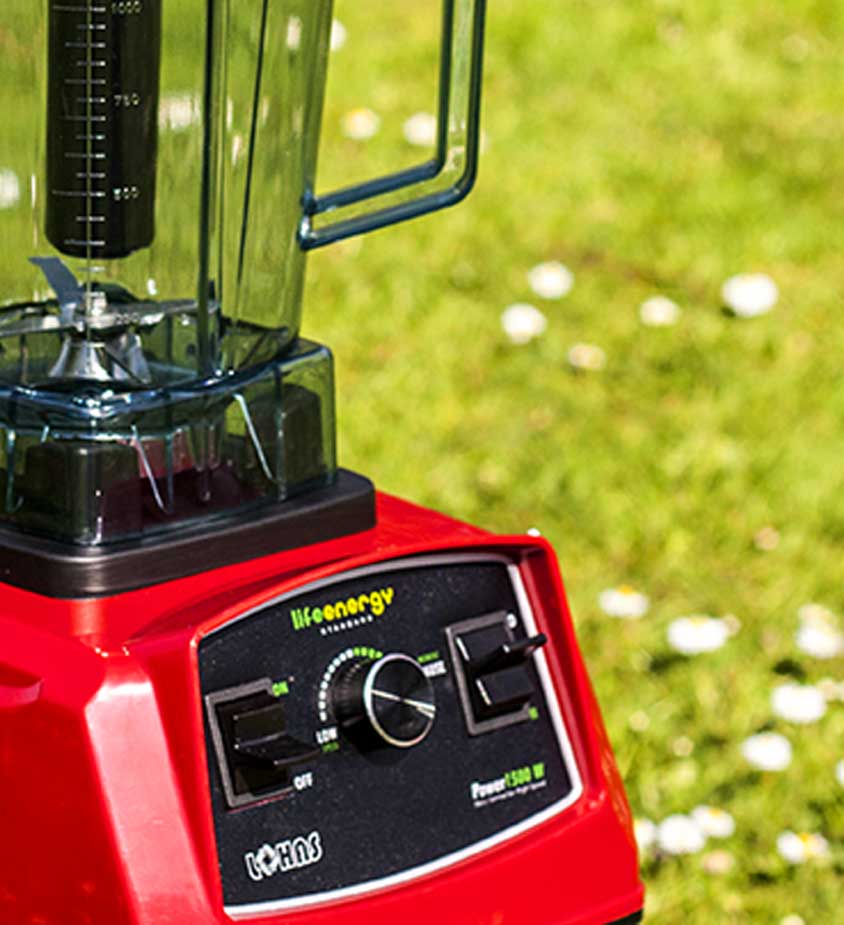 Have you ever wanted professional blender at home for affordable price with excellent customer service and really long warranty?
We, LIFEENERGY specialists, carefully tested and choose strongest industrial 2200 W durable carbon engine from Taiwan. We found best durable and water proof bearing set with 6 stainless steel blades from Japan placed almost to the end of the jar for effective use in crushing ice or making pate. We added heat and over current protection with super thermo self recovery fuse. We added simple but effective variable speed control and finally made a sleek and shine body case for stylish personalized kitchens.
This superb blender can make you a long life happy customer for fresh green smoothies, fruit shakes, vegetable spreads, raw cakes and everything you can need for professional blender like nuts pate without any added water or oil
heavy motor designed for long life while crushing all ingredients in a few seconds, even ice, nuts and dry
high quality bearing imported from Japan for real durability

1 year warranty

no unnecessary electronic parts.
clean plastic container BPA free 2 liter
Additional Information
Country of manufacture
China
Shipping from
BIH
Warranty
7 years engine, 1 year blade set
Business guarantee
2 godine na motor i elektroniku, 6 mjeseci na noževe
Technical data

Blender snažnih performansi i klasičnog izgleda s vrlo jakim motorom od 2200W i 3 konjske snage melje sve namirnice pomoću inox noža sa 6 oštrica u finu, sitnu i vrlo pitku kašastu strukturu. Pogodan je za brzu i efikasnu pripremu raznih sokova, slushija, frapea i smoothija koje će gosti jednostavno obožavati. Za fino podešavanje brzine okretaja noževa tu je i ručni potenciometar sa kontrolom brzine do maksimalnih 35000 okretaja u minuti te zaštite od pregrijavanja i mehaničkog oštećenja za sigurnost.

Radi duljeg vijeka trajanja noža ugrađena je vodonepropusna i temperaturno neosjetljiva brtva kao i visokokvalitetni unutarnji ležaj za učestalo, profesionalno korištenje. Za brzu pripremu veće količine pripravaka blender posjeduje i 2 litrenu posudu koja se brzo pere. Napravljena je od visokokvalitetnih BPA free materijala te je pogodna i za pripremu zdravih ekoloških napitaka.

Karakteristike:

moguća izrada namaza i od najtvrđih namirnica, bez dodavanja vode ili ulja
tipka za On/Off
tipka za pulsno blendanje
ergonomski okrugli potenciometar za fino podešavanje brzine okretaja

Motor

radna snaga - 2200W (3 vršne konjske snage)
radni napon / frekvencija - 220-240V/50Hz; 120V/60Hz
maksimalna brzina okretaja - 35,000RPM
razina buke - max 88dB

Noževi

japanski SUS301, šest noževa sa titanijumskim oštricama
visokokvalitetni ležaj i brtva noža za učestalu upotrebu

Posuda

100% BPA-free Tritan posuda od 2 litre
črvsti poklopac posude i štap BPA free

Sigurnost

senzor postavljene posude
zaštita od preopterećenja i visokih temperatura rada motora

Pakiranje

Boje - srebrna i tamno siva
Dimenzije (š×d×v) – 200 x 240 x 480 mm;
Težina – 4 kg;
Product Questions
No Questions
Reviews
Click to check all testimonials
Customer Reviews
PREZADOVOLJNA SAM

Review by

Jelena kalinic

on 3/15/2022

blender je fantastican, prava pomoc u kuhinji, od laganog pravljenja smutija do mlevenja orasastih plodova u brasno.. s obzirom na ogromnu snagu motora ,jacina zvuka je zadovoljavajuca. najcesce ga koristim za pravljenje svezeg mleka i brasna od badema,lesnika....testirala sam ga i sa ledom i zamrznutim namirnicama i zaista funkcionise savrseno,bas kao sto je u opisu proizvoda.
prezadovoljna sam i preporucujem ga svima koji zele blender po pristupacnoj ceni u odnosu na preskupe profesionalne blendere, kojima apsolutno moze da parira.